By Gordon Rayner (President of California Pavement Maintenance, Inc.)
February 2009
The first project I did at San Francisco International (SFO) was 31 years ago in 1977. That was installing a fuel-resistant coal tar sealcoat on a large aircraft parking ramp at the International Terminal. Thirty years later we received a request that had a familiar ring to it; SFO needed a safe, fuel-resistant protective coating for parking ramps, refueling and taxiing areas at the International Terminal.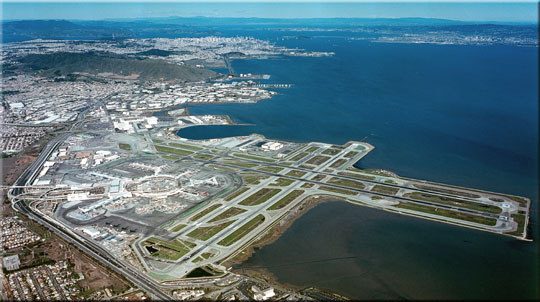 San Francisco International, one of the busiest airports in the world, is located on land that extends out into the San Francisco Bay and is naturally very environmentally sensitive. Coal tar would no longer be an option.
The challenge required a new approach to protective coatings and that challenge was given to Carbonyte Systems, Inc. of Sacramento.
The material to be used for the SFO Plot 3 Tarmac area needed to be a cold process, aggregate filled material that would meet ASTM D 2939 standards for fuel resistance. ASTM D 2939 is the current transitional standard for the FAA on fuel-resistant pavement sealers.
Bill Coe, research technologist with Carbonyte Systems, drew on years of asphalt sealcoat formulation experience for the base design of asphalt binders, crushed aggregates and polymers but new innovation was necessary to meet D 2939. For this he turned to Earth Resin(tm), a product developed by Prime Plex LLC(tm).
Earth Resin(tm) begins as a conventional, 20 mesh ground tire rubber which is deploymerized to a fine, cross-linkable black powder by a technology know as the P2GTR(tm) permutation process. During the cross-linking process, select virgin elastomers are grafted into and interwoven with the rubber to create a broad range of positive performance characteristics. The performance characteristics necessary for the Plot 3 Tarmac project were: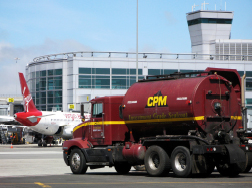 1. Non-toxic, non-carcinogenic
2. Non-polluting, no pah's, no hap's and negligible voc's
3. Safe to handle and store, container residue landfill safe
4. Persistent curing in cool temperatures
5. Superior fuel and water resistance.
6. Dries insoluble with crosslink additive
Bill coordinated with Prime Plex(tm) for the processing of the Earth Resin(tm); proposed project material samples were made and lab tests were run for compliance. With a final mix design in hand for CarbonSeal-FR, two test strips were placed for evaluation on Plot #3 in November of 2007.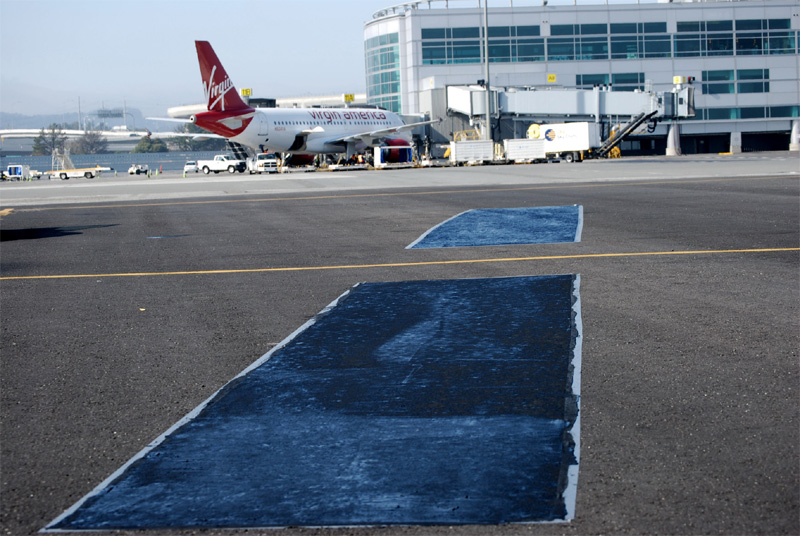 The two sections selected straddled the area where 777's, some weighing more than 400,000 lbs., would travel and would allow approving engineers to monitor the CarbonSeal-FR's performance under heavy traffic and torsional loads.
Approval came in January of 2008 but, with fog being very prevalent during the winter at SFO we had to wait for a break in the weather to proceed. In April a clear stretch of dry weather was forecast and the project was set in motion. Application specifications called for two coats of material; the first to be squeegee applied and the second to be spray applied. For application Bill turned to California Pavement Maintenance Company and a new PavementSaver sealcoat machine which could both squeegee and spray.
Weather conditions on April 8th were cool, clear and very windy but before any work could be done we had to clear security. Security at any International Airport is strict but bringing equipment onto active airport taxi and parking areas requires thorough equipment and personnel inspection. Despite having submitted all the four man crew's personal information and description, equipment registrations and serial numbers and MSDS's for all our materials, bringing material on-site in a big tank seemed to create additional problems so the San Francisco police department was called in to assist airport security. What we didn't know at the time was the Olympic Torch was due to arrive and depart while we were there working and security was extra tight.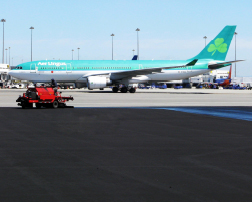 On-site, several hours late, we had to finish cleaning the work area. Airports keep their taxi areas very clean and SFO is no exception so we were simply assuring there was no loose sand or other wind-blown items on our work area. Once clean, the application of CarbonSeal-FR began with cutting the material 15% and proceeding to squeegee the first coat.
Working on an active airport ramp, as it turned out, meant working on an active airport ramp! The crew was a little shocked when 747's came rolling by, their huge size making them seem to be right next to them, their wings seemingly going over their heads.
By the end of the day the crew had placed two coats on 100,000 square feet. Curing, despite cool temperatures and the close proximity to the salt water, was fairly quick due to help from the high wind. The wind did cause a small problem in that we had to squeegee both coats for fear of getting overspray on any aircraft passing by. It was at the end of day one that we discovered what all the security was about.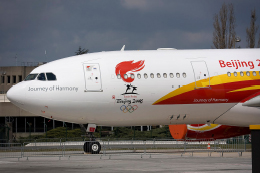 The Olympic Torch was flown in that day and made its way to the City of San Francisco where demonstrations disrupted the planned run. A secret course for the return run to SFO was chosen to avoid the demonstrations and the Torch made its way back to the airport the next day and flew off to their next stop in Buenos Aires. With this high profile activity at SFO it became apparent to us that the facility managers had confidence in both who we were and what we were doing on the flight line.
Day two went much smoother, security knew who we were and we arrived on-site on time and ready to go. The weather was still clear but also very windy as two coats were placed on an additional 200,000 square feet. Spraying was accomplished on a small area well away from the airplanes but the decision was made to squeegee most of the second coat on day two as well.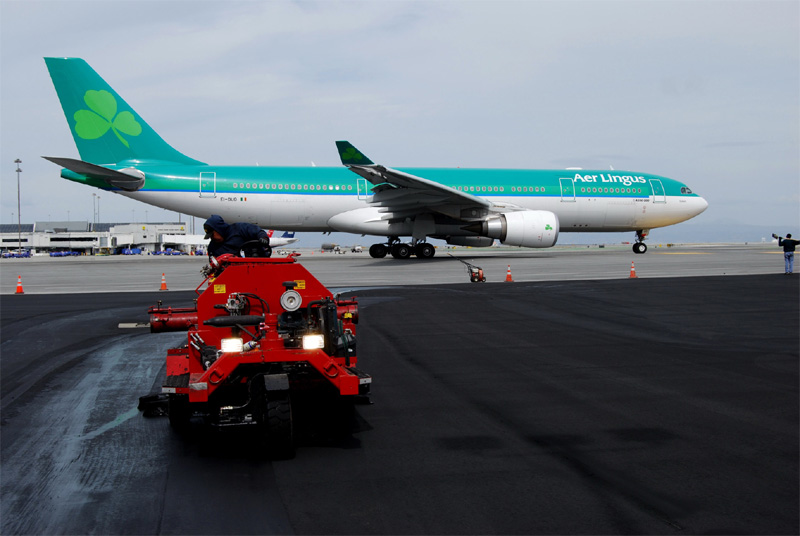 Reflection always allows for 20/20 vision and looking back at this challenge it is apparent that a number of factors could easily have gone haywire and caused delays or worse problems. To have a successful ending to a project that required the development of a new material with unique strengths and curing abilities and the professional installation that was required under demanding conditions is a testament to the people and equipment involved. This project depended on the dedication of Bill Coe and the entire Carbonyte Team, the support of Prime Plex(tm), the installation work of CPM and the dependability and production capabilities of the PavementSaver which was able to handle a highly rubber modified material with apparent ease.
Success for us is measured in both project completion and long term material performance. This was the first use of an asphalt-based, fuel resistant sealcoat that I am aware of and the installation went off as smoothly as could be wished for. As for long-term performance, lab trials indicate positive results and recently Robert Gray (SFO - Facilities, Civil Engineer Dept.) reported that, upon the January inspection, fuel spills in the area have not penetrated into the underlying HMA and the coating is holding up well. True to his nature, Bill kept samples of the actual material used on the project and sent it to an independent lab for compliance verification. The material met the ASTM D 2939 standards.
Material development is an ongoing process; each newly designed material that succeeds leads you into a new field with new potentials. Continued work on the rubber and curing components used on the SFO project has led to new discoveries that made their first appearance at John Wayne Airport in Orange County where an ARB emulsion was used to seal 640,000 square feet of pavement in the middle of the night in fog, successfully.
The future of new generation materials is here.